The hot tub accessories you choose for your tub are going to be based on your budget, desires, wants, and needs. There are accessories that provide functionality and some that are for pure entertainment, and you get to decide what is best for you and your family. Let's go over a few of the best accessories for your hot tub.
Functional Accessories: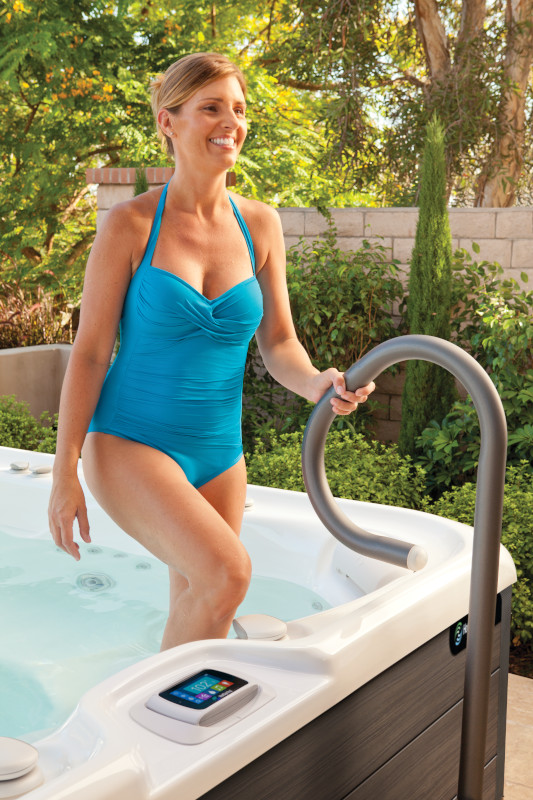 Cover Lifters: Hot tub covers can be cumbersome, bulky, and awkward for some to lift, and your cover can get damaged if it is left on the ground each time you use it. Cover lifters allow hot tub owners to take off their covers with ease, and keep their cover off the ground and from getting damaged.
Steps: Hot tubs can stand 3' tall or higher; this can pose a problem for people with limited mobility, those who may be shorter or for younger kids. Hot tub steps can not only make entering and exiting the tub easier but it is safer. It is wise to purchase steps that are water-resistant, slip-resistant, and constructed well. Your steps don't have to be an eyesore; you can purchase safe and sturdy steps that match your spa or are appealing to the eye.
Handrail: This is another safe and practical purchase. Adding a handrail to your hot tub can help to assist you into your tub safely. These are especially helpful for kids and those with limited mobility.
Umbrella: An umbrella is an excellent option for those that do not have their hot tub placed in a location that is covered. An umbrella can be useful year-round. In the summer, the umbrella can offer extra protection from the sun, add shade, and reduce the glare coming off of the water. In the winter, it can provide protection from snow and in the Spring protection from the rain. This allows you to enjoy your hot tub year round!
Cooling System: Hot Spring® Spa offers a hot tub cooling system so you can enjoy your hot tub year-round. You can use this feature to cool your spa down in the summer, or if your an athlete, it can be used for cold water therapy.
Fun Accessories:
Functionality is a must, and we all want function, but it's great to add a little, or a lot, of fun in our lives too. Below are some great accessories to add a little additional fun to your hot tub time.
Remote Monitoring: Most of us are pretty techy nowadays, and this is a great way to add functionality with fun. With the remote monitoring, you can adjust your hot tub setting from afar. If you own a vacation home or rental, this is a great way to monitor your hot tub. Your tub is an investment, and now you can take care of it while you are away. With the remote monitoring, you can turn your hot tub on, adjust the temperature, and you can be alerted if your spa has any service requirements.
Outdoor Lighting: Hot Spring® Spas have a great lighting system and options. If you are looking for a little extra fun and flair, you can ask for the Clarion® lighting system, which includes three lights bars that will illuminate the exterior of your hot tub, which offers extra flair an ambiance to your tub as well as safety. The lighting can help prevent slips and falls at night.
🎶Bluetooth® Connectivity🎶 Now we are talking fun! Many of us like to turn on some mood music or fun tunes while we soak. Now you can do this right from your hot tub. With the Bluetooth® technology, you can wirelessly connect your home device to your hot tub. You can stream your music, playlist, audiobook, and control the volume from your control panel.
Television Monitors. We enjoy the tech-free time when in the hot tub, but some people enjoy watching a good movie or their favorite sports game while soaking. It's a great way to stay relaxed and enjoy your favorites. There are quality hot tub monitors use for outdoor viewing and that for an additional price, you can purchase a protective monitor for them.
I know there are a lot of fun and functional accessories to choose from, but we can help you decide at Luxury Bath and Spa. Your hot tub is an investment in your health, family, fun, and home.