We are all staying home and enjoying our homes and yards much more these days. We thought we would share a few ways to upgrade your backyard getaway and enjoy your staycation resort year-round, especially now that the weather is improving and spring is in the air.
Landscaping:
A beautifully landscaped yard makes coming home, sitting on the porch, and enjoying your space, much more pleasurable. It becomes a retreat that you want to enjoy and share with friends and family. Whether you hire a professional landscaper or prefer a DIY approach, landscaping is a must for a backyard retreat. Yes, landscaping can be costly, but it doesn't have to be. You can purchase plant containers with eye-catching colors and varieties. Place them around your deck or near your seating area to produce a place of privacy and beauty—plant perennials, which return year after year. Spread mulch around your trees, shrubs, and flower beds, and your backyard has already been transformed.   
The Perfect Patio/Deck:
Sometimes a little stain or patio bricks can transform your space from shabby to serene. With a bit of elbow grease, sweat, and deck stain, your deck can look like new. With some planning, you can turn a piece of your backyard space into a tranquil patio with some patio bricks, comfortable seating, and planters. Adding texture, color, and decorative furniture can transform a patio or deck. 
Firepit:
Everyone loves a good fire. Fire pits can provide a beautiful focal point for your yard, a great place to warm up on cool nights, and a classy and inviting space for your family and friends to gather.
Lighting:
Adding lighting to your outdoor living space allows you to enjoy your space after the sunsets. It provides a safer space, but it creates a more enjoyable and magical getaway. Lighting adds drama, ambiance, and mood to space. It's an affordable, safe, and sure way to enjoy your backyard getaway. Depending on your space, you can use string lighting, solar-powered accent lights, walkway lights, or a combination of all of them.   
Add a Hot Tub: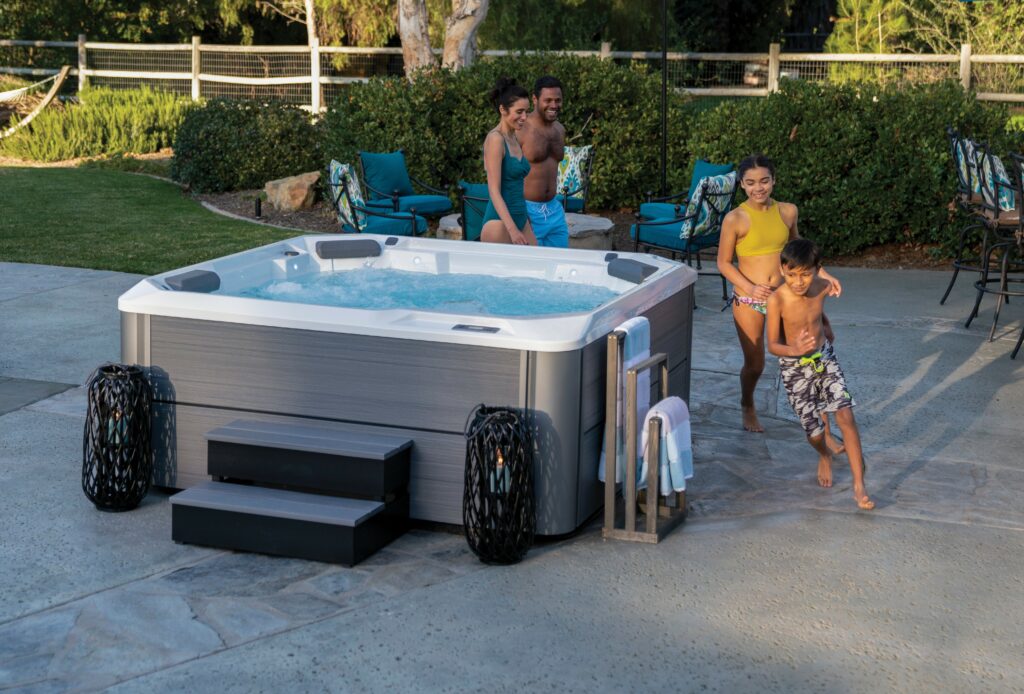 Enjoy long relaxing soaks year-round that add a luxurious feel to your home and yard. A hot tub isn't just a lavish purchase but a lifestyle choice. Enjoy the beauty of your yard, house, and surroundings while relaxing and making memories with friends and family. If you are considering a hot tub purchase, please consult with Luxury Bath and Spa for a backyard consultation to ensure it's placed in the best location and your deck or patio can withstand the weight.