Your hot tub is an investment for your home and lifestyle. Like any large purchase – a car, house, boat, etc. – keeping your investment maintained is important. While Hot Spring Spas are built to last a long time, they still need routine maintenance.
How Do I Maintain My Hot Tub?
When you purchase your hot tub, you will receive an owner's manual, and Luxury Bath and Spa will walk you through the basics of maintaining and operating your hot tub. For routine maintenance, the best course of action is to follow your owner's manual, drain and replace your water every few months, clean and replace your filters as needed, keep your hot tub covered when not in use, and monitor your water quality.
Hot Tub Service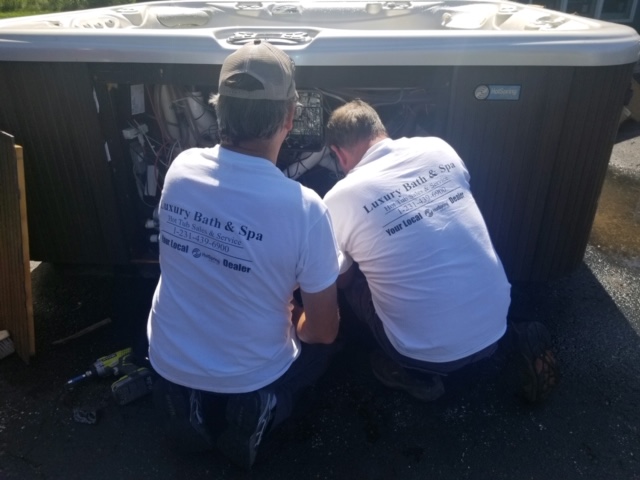 Hot Spring Spas is the world's leading brand of hot tubs and are built to last for a long time, but just like a car or boat, they can break down. NO WORRIES – we have qualified and experienced maintenance and service staff that can fix your hot tub and get you back to soaking. For repairs and maintenance, please contact an authorized Hot Spring Spas dealer.
Who Can Service My Hot Tub?
We recommend contacting your authorized hot tub dealer, like Luxury Bath and Spa, for maintenance and service issues that arise. For routine maintenance, such as chemical checks and draining and cleaning your hot tub, simply follow your owner's manual or call us for questions. If you are a seasonal resident or do not feel comfortable draining or maintaining your hot tub on your own, that's ok. Luxury Bath and Spa is full service; we provide sales, service, maintenance, and accessories. We can drain, dry, winterize, open your tub for the soaking season, check your chemicals, fix your tubs, and answers your questions.
We're often asked if maintaining a hot tub is hard to do? Our answer is no. We make sure anyone who buys a hot tub understands how to take care of it. We also sell only the best spa chemicals to help you maintain your hot tub. Follow your owner's manual, simple routine maintenance or call us while you sit, soak and relax.