Warm or Cool-You choose. You can use your Hot Spring® Spa year-round with the CoolZone™ system. Do you like your hot tub toasty warm, do you prefer cryotherapy, do your aching muscles prefer a warm dip? With the CoolZone™ system, you can enjoy and take advantage of your Hot Spring® Spa from Luxury Bath and Spa year-round.
With the CoolZone™ system, you can heat or cool your water in a matter of a few hours. Enjoy a warm dip during the cold nights and a refreshing soak on hot days, or soak those sore muscles using hot or cold water therapy.
A Warm Soak:
Whether you have aching muscles and joints due to age, disabilities, or from a hardcore workout, a warm soak with a jet massage can help relax and soothe those sore muscles and joints. According to Medical News Today, heat therapy can promote blood flow, help loosen your muscles, help eliminate lactic acid buildup, lower back pain, and more. Soaking in warm water can also relieve stress, tension, and help you get a good night's sleep.
A Cool Dip: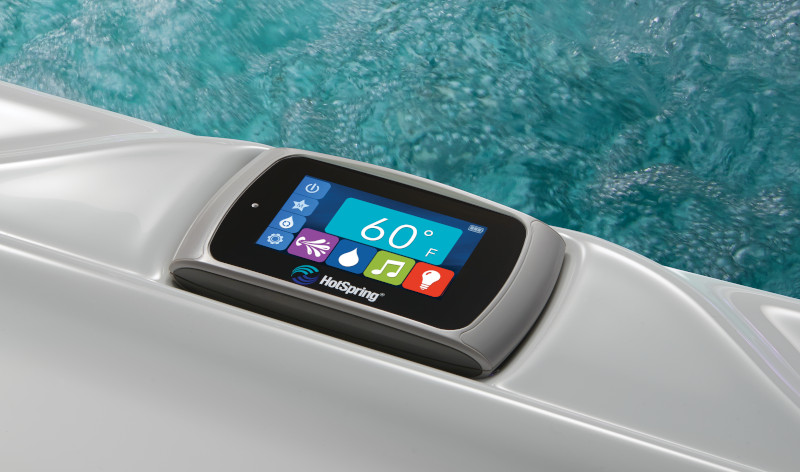 While scientific evidence about cold water therapy is mixed, it is common practice for some athletes to use cold water soaks after a hard workout or game, but why? Coldwater immersion, or cryotherapy, is used to reduce muscle pain and soreness and reduces swelling and tissue breakdown. Athletes use this method to help improve performance and muscle recovery. Coldwater therapy is good for athletes, but during hot summer days, this is a great way to enjoy the benefits of water immersion, cool down, and still enjoy an excellent jet massage.
For athletes, this is a great feature to have on your hot tub, but you don't have to be an athlete to enjoy the benefits of the CoolZone™, this is a great feature for everyone. We live in a dual climate region, where we have cold winters and hot summers. For those of us living in Northern Michigan, it's great to have options and the ability to soak in our hot tub year-round. Enjoy your spa and take full advantage of all of the features and benefits of your Hot Spring® Spa!