Purchasing a hot tub isn't just a luxury purchase but a lifestyle choice. There are wonderful benefits to owning a hot tub, and you will have it for years to come. Because purchasing a hot tub is an investment, you want to make the right choice for yourself and your family. Let us help you pick the spa that is right for you. 
Highlife® Collection:
The Highlife® is our top-of-the-line tier when it comes to hot tubs. While all of our HotSpring® Spas are durable, built to last, and offer a supreme soaking experience, the Highlife® is deluxe. It is our most luxurious tub, providing more color options and featuring the patented moving moto-massage® DX. It is also our most energy-efficient tub. The tub has been insulated with multiple layers of foam, features a SmartJet® system, which allows you to direct power to the jet you choose, and the circulation pump uses less energy than a 40 watt light bulb. The diagnostic logo light on the tub's exterior is an excellent feature that lets you know when your spa is at your desired soaking temperature and ready to use, or if it needs maintenance or service.
Most energy efficient
Multiple layers of high-density foam insulation
Moto-Massage DX jet system
SmartJet® and Comfort Control® massage
Uses the 100% no-bypass supreme filtration system
Wireless touchscreen control system
Customizable zone lighting
Exterior lighting
Additional hot tub cabinet colors available
Available with the FreshWater® Salt System
Diagnostic logo light
Wireless entertainment optional
Limelight® Collection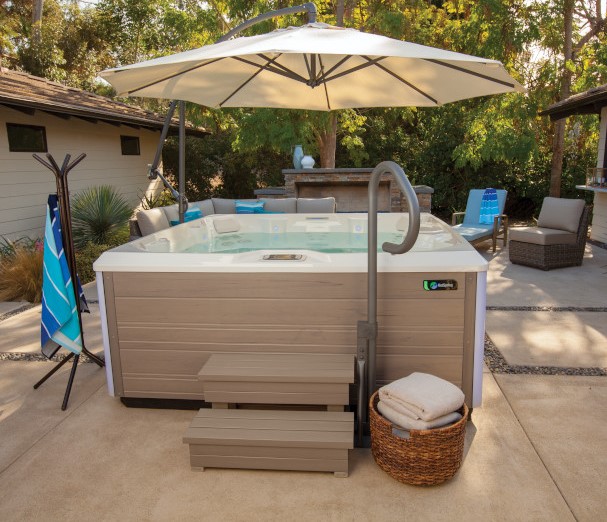 The Limelight is a premium hot tub offering great features and roomy seating. The limelight collection offers both the Comfort Control® and SmartJet® system, uses a dual-action filtration system instead of a no-bypass filtration system, and offers multi-color led lighting for fun lighting and entertaining experience. 
Dual-action filtration system
FiberCor® insulation and polyethylene sealed bottom. 
Color LCD control panel
Available with the FreshWater® Salt System
Exterior lighting
SmartJet® and Comfort Control® massage
Diagnostic logo light
Wireless entertainment optional
Hot Spot® Collection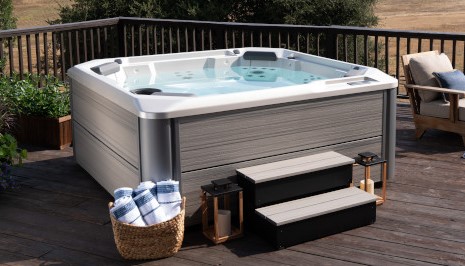 The Hot Spot® collection is a quality tub offering the same energy-efficient insulation as the Limelight® and the Comfort Control® jet feature. The Hot Spot® has an LCD control panel and uses the Frog® @ease® filtration system. This system uses pre-filled cartridges that automatically release chlorine and minerals into your water, which provides clean, softer water while using less chlorine and odor.
Comfort Control® massage
SmartJet® system on Pace™ model only
Frog® @ ease® filtration system
Multi-color LED lighting
LCD control panel
Exterior lighting available on the Rhythm®, Relay®, Stride, and Pace™ only.
Wireless entertainment available on the Rhythm®, Relay®, and Pace™ only.
Stop in to Luxury Bath and Spa for a soak test and talk with one of our experts. We are here to help you pick out the best tub for your budget, family, and lifestyle. Let the soaking experience begin. 
You might also enjoy: